WELCOME Amory Transportation LLC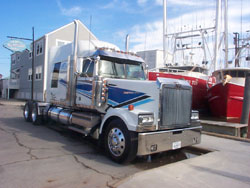 Amory Transportation LLC is a refrigerated over-the-road carrier located in Hampton, VA providing LTL (less than truckload), truckload, local cartage, and cross-docking services.
We have set ourself apart from the competition by striving for excellence and making customer satisfaction our #1 priority. We understand the importance of identifying and responding to each customer's unique needs. From our professional drivers and knowledgeable staff to our modern equipment, our emphasis is on providing our customers the premium service they demand for all their temperature controlled transportation needs.
We strive to provide today's hard-working drivers with superior benefits, a competitive pay package, and the best equipment available.
We invite you to see what we have to offer. Please feel free to call us anytime.